Rotospa Hot Tubs
Canadian Made!
Tub & Deck Tech is the local authorized dealer for fully portable, hard sided hot tubs by Canadian Made RotoSpa™ hot tubs.  RotoSpa™ hot tubs are constructed using a process called rotational molding. This process produces a one piece shell.  This shell is incredibly strong, lightweight and almost completely impervious to environmental influences.  RotoSpa™ hot tubs weigh approximately 280 lbs., as a result makes them light enough that 1 person can move them with ease.  Contact us and we will explain how!
Canadian made RotoSpa™ hot tubs are a growing phenomenon in hot tubing today. They are cost effective, often half the cost of the more expensive acrylic tubs, even though its made with the same heating and plumbing components.  Most Noteworthy, its rotomoulding construction allows incredible insulation value and durability in harsh winter conditions.  Its simplicity to install is one of its most redeeming qualities – roll it in place and just plug it in to a household plug.
If you are considering buying your first hot tub we recommend reading our Hot Tub Safety Guidelines.
Features
6 Seating Positions
78″ Dia. x 33″ H
280 Gallon Water Capacity
3000lbs full weight
275 lbs. Dry Weight
Digital LED Controls
Convertible 110/220v
1.5 hp, 2 speed pump
1kw/4kw Heater
20 jets
7 Cup Holders
50 sq. ft. Filter
Surface Skimmer
Fully Enclosed Shell
Full Foam Insulation
4″ bi-fold Locking Cover
Cooling off Seat
Inside Step
4 season outdoor/indoor use
Options
Stainless Steel Cover Lifter
Stainless Steel Hand Rail
Step/Chemical Storage
Ozonator
Stainless Steel Jets
9 Colour LED Lighting
** Green Colours no longer available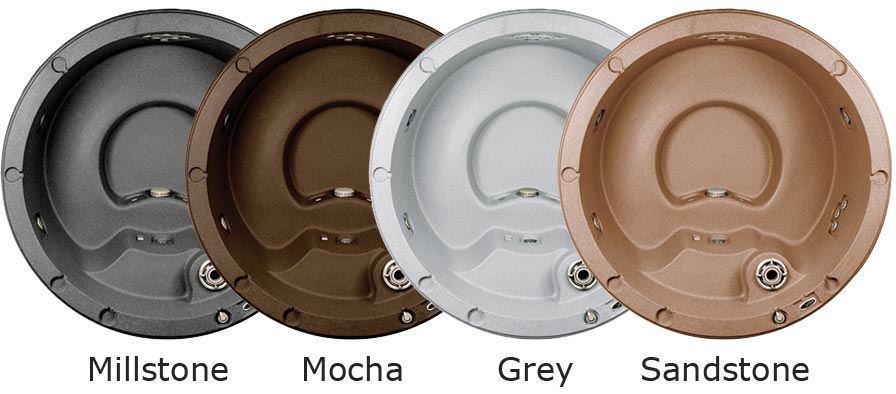 SPECIFICATIONS
DIAMETER
78″
DEPTH
33″
WATER CAPACITY
280 Gallon Water Capacity
JETS
20 Total
OZONE READY JETS
2
SEATING
Comfortable surround seating for 6-8 people. Cooling off seat.
CONTROLS
Digital temperature read out, high/low jets, light control, automatic filtration
FILTRATION
50 sq. ft. filter with surface skimmer
INSULATION
2lb density foam. 4 season outdoor use
HEATER
1kw/4kw Heater
VOLTS/AMPS
110 Volts/ 8 amps
PUMP
1.5HP, 2 speeds, high/low
SHELL
one piece, rotationally molded high density
EMPTY WEIGHT
250lbs
FULL WEIGHT
3000lbs
COVER
4″ lightweight one piece with fold in middle
SAFETY LOCKS
4 locks on lid
WARRANTY
5 years on shell, 2 years on Pump and 3 years on Heater Element