About Us
Welcome to Tub & Deck Tech
At Tub & Deck Tech we pride ourselves on exceptional, personalized customer service.
In need of hot tub spa service or repair?
We are the experts! Rely on us to address all of your service needs.
Why us?
We don't repair the symptoms of the issue; we find the real problem and repair it.
All of our Staff are licensed, bondable, WSIB covered and trained.  We continually complete relevant training and education courses through our parts manufacturers, distributors and hot tub/spa manufacturers.   This is our full time choice of business, as a result it shows through our customer relations, professionalism, knowledge, and education.
What we Carry:
We are your local Rotospa and Great Lakes Hot Tub dealer. We also carry an assortment of hot tub pumps, packs, heaters, filters, covers, and many other products.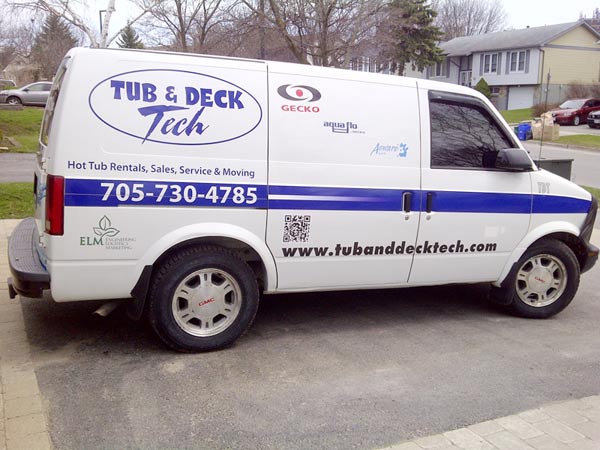 Service vehicles:
Our service vehicles are fully stocked with common parts for the majority of the spas on the market today. This simple task consequently saves you time and money.
Need Help?
Need Service, Parts or Chemicals?  
We can help!
We will help make your hot tub experience positive and rewarding no matter what brand.
Come visit us today at Hot Tub Parts Source 19 Hart Dr. Unit 105 Barrie Ontario.
Proudly Servicing Barrie and the Surrounding Areas:
areas including Angus, Alliston, New Tecumseth, Adjala-Tosorontio, Innisfil, Tiny, Tay, Wasaga, Penetanguishene, Midland, Clearview, Essa, Springwater, Orillia, Simcoe, Oro, Severn, Ramara and Collingwood
Hot Tubs
Tub & Deck Tech is the Authorized Dealer for 3 Brands of Hot tubs!
Please see the drop down links for more information
Repairs & Service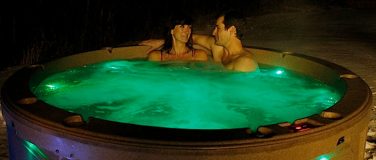 Call Us… If your hot tub isn't working we can help
We're just a phone call away. Our phone consultations are FREE. Many have resulted in problems being resolved over the phone, however in some cases an onsite service appointment may be suggested.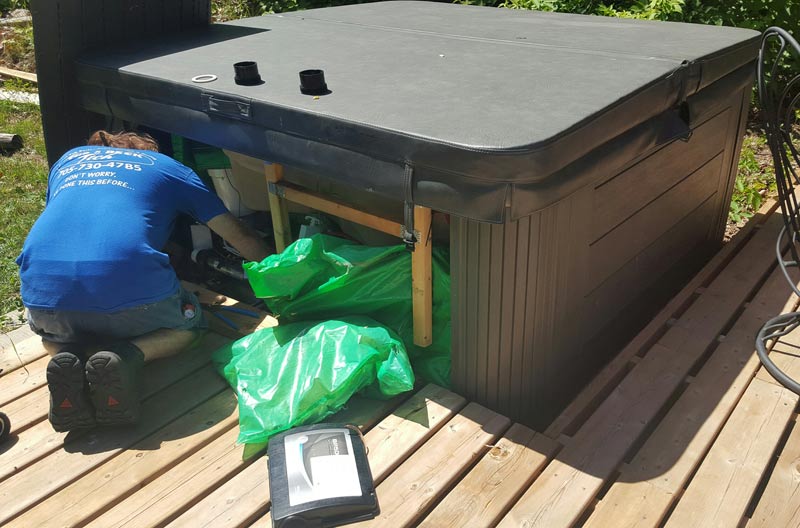 We Fix all Makes & Models
We are experienced in diagnosing and repairing all hot tub makes and models. There's almost no problem we haven't seen or repaired. Our technicians are experienced, factory trained and dedicated to getting your hot tub up and running as quickly as possible.
Heaters, pumps and other components replacement.
Spa pak or control board replacement. The spa pak is the electronic heart of your hot tub. We can replace your old spa pak with new one featuring the latest energy saving technology.
Leaks diagnosed and repaired.
Full hot tub inspections and maintenance programs available.
Any problem you have with your hot tub we can fix ……Call us.
Trust your hot tub to our professional team and relax knowing that your hot tub will be ready whenever you want to use it. We offer regular maintenance packages, hot tub cleaning, opening and closing services, expert tips and advice on hot tub care and maintenance from our factory trained experts. You choose, we'll take some -or all – of the work out of maintaining your hot tub – all you have to do is enjoy it.
Our Services
You may choose any of the services listed below or select one of our maintenance packages that is right for you and helps save you money.

Complete Hot Tub Inspection
A Hot Tub inspection takes about an hour – and it is the best way to make sure your Hot Tub is working properly. This is an ideal service if your hot tub is 3 years old and older or you purchased a home with a hot tub already installed. Hot Tub inspections are typically scheduled with other services such as a drain clean and fill and may include:
O ring inspections on all plumbing unions to prevent leaks
Check heater gaskets and pump seals
GFCI (ground fault circuit interrupt) connection needs to be checked to be sure your electrical connection is safe for your family.
Overall check of equipment ensuring proper operation.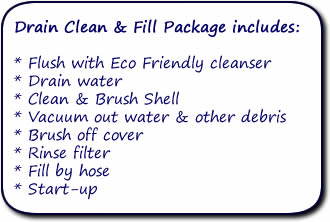 Drain Clean & Fill
Almost every hot tub manufacturer recommends draining and refilling your hot tub several times per year. (Every 3 to 4 months depending on use) Not following this recommendation can lead to:
Voiding of your warranty!
Unsanitary, murky or grimy water conditions
Itchy skin, rashes or other skin problems
Equipment deterioration
Draining a hot tub can take up to an hour. We bring special equipment to drain your hot tub water.  The refilling time is dependent on the homeowner's water availability and pressure and can vary from 1 – 3 hours.
Suggestion: Because of the length of time it takes to drain and refill the hot tub, it is recommended that scheduling other services to be performed at the same time can result in a savings for you. Please check out our maintenance packages to find the package that's right for you.
Please note: We can not do chemical and pH balancing during this service as they should be done when the Hot Tub water is at a minimum of 80 °F.
Hot Tub Opening Package
If your hot tub had been closed and the time has come for you to enjoy it again, Tub & Deck Tech is ready to help! Our expert team will make sure that every part of your hot tub is in its best working order.
Hot Tub Closing Package
Don't plan on using your hot tub for an extended period of time!
Call Tub & Deck Tech…we'll close your hot tub properly.
Bacteria and mold can form and grow in un-drained lines and it will enter your water upon activation. This will cause a foul odor and is unhealthy.
Improper closing of your hot tub for the winter can cause many problems. Cold temperatures can crack manifolds, freeze plumbing and pumps and cause thousands of dollars of damage.
Chemical Maintenance Programs
Regardless of the type of chemical or non chemical you use, Tub & Deck Tech can provide you with a program that is designed to best suit your needs and budget. We can help to minimize maintenance time and chemical use.
Hot Tub Maintenance Programs
Coming Soon:
We can customize a package that best suits you!  Please contact us to discuss details.