Hot Tub Moves /Moving
Want to take your hot tub with you? Then why not let the experts take the hassle out of moving your hot tub?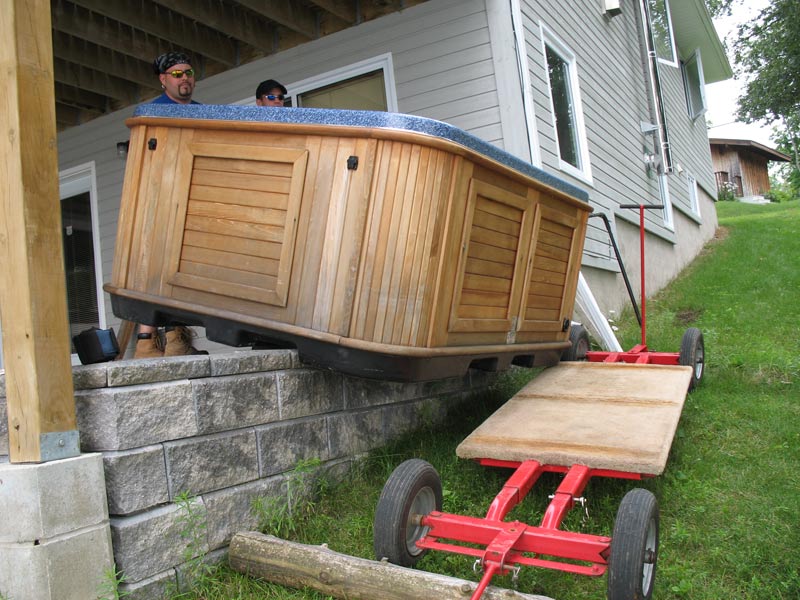 Tub & Deck Tech offer a professional and reliable hot tub moves and installation service. Our Team has years of experience and will safely move your hot tub/spa to your new location. We are WSIB certified and fully insured.
Need Storage?
Tub & Deck Tech can move hot tubs anywhere in Ontario or simply move it from your patio to your deck.  If you are moving but are not ready to move your hot tub, we can store it for you in our indoor storage facility (fees apply).
Hot tub moves! What we do!
For hot tub moves the hot tub is put on its side on a spa dolly. Brought safely through the gate,  from your yard to the road,  then transferred to a spa trailer or flat deck, covered(weather depending) and ready for its journey to its new location.
Why call us?
Don't trust any firm that offer moving your hot tub without checking their experience and reputation, hot tub are significantly more likely to be damaged during transit than in use.
Tub & Deck Tech will Pick up and Deliver your Hot Tub/Spa to anywhere in Ontario. We supply the truck, trailer, spa dolly or flat deck and the professional manpower. Crane Service is also available.
Please call or email for a quote.  Our professionally trained technicians have specially designed equipment to move and deliver hot tubs safely to any location. Non-standard deliveries (i.e.: deliveries that require a crane) are routine.
Drop Ship Delivery
Are you a do-it-yourselfer?  Just need your spa picked up and delivered to your driveway?
Hot tub was dropped at the end of your driveway and you need it put in the back yard?
Call us – we handle all drop-ship delivery requests.
Hot Tub Moves
If you currently own a hot tub and you need to have it moved, give us a call.   Call us to get a free estimate for moving your hot tub.
Corporate Contracts are currently not available.
Pre-Delivery Tips
We recommend the following tips in order for the delivery crew to complete the best installation possible :
Our delivery coordinator will go over all the prep work and site evaluation prior to scheduling the delivery.  If there was any prep work for your site, be sure to have this completed prior to arrival. The delivery crew does not remove or replace anything other than the tub.  Wait time for Delivery Crew's can play havoc with a schedule.
Be aware of the size of the product you just purchased or are having moved.  Take numerous measurements to verify your Hot Tub will fit in, around, through, under, beneath any obstacles.  You need to have 4ft minimum side clearance and 12ft overhead clearance due to the dolly used to deliver your product.  One of the most common mistakes is the overhead clearance, I/E – gutters, roof lines, decks, stairs, trees, and bushes.
Limited Access
If your location has limited access due to side and/or overhead clearance or exceeded height restrictions,  a crane would be required.  Crane Fee service is extra.   The costs for this service ranges from $500 to $1000 or more depending on height, distance and location.  In many cases this is the safest way to deliver your product. Cranes need to be booked well in advance.
Timing
The delivery coordinator will give you a 3-4 hour window when to expect the delivery.  Understand that delivering heavy awkward products can cause delays in the schedule.  Asking for an exact time is nearly impossible to accommodate.  We suggest that you plan an entire day or evening to expect delivery, due to the unforeseen delays that may happen.  Traffic is usually the biggest problem.
As the customer, please have all necessary financing completed prior to delivery.
During your delivery, expect an hour or more to complete delivery on most items.  This is a major purchase for you and we would rather take our time to do it right the first time.
Upon arrival the delivery manager will introduce himself and go over any paperwork and sign off sheets required prior to delivery.  At this time you should instruct the delivery manager of the final placement of the product.  This is a good time to ask general questions, but realize that each and every person has a different opinion of how things will look the best.  Our suggestions are just that, a suggestion and to our knowledge there are no wrong answers outside of the obvious.
For Hot Tubs, there should be a little more time spent on the placement, taking into consideration the location of the control panel, seating preferences, entrance to the Hot Tub (steps & handles), drain, filter, and the limitations of the cover lifter and/or cover before committing to the placement of the tub.
For Warranty and Safety purposes your Hot Tubs electrical connection has to be installed by a professional and certified electrician.   Please feel free to contact our Electrical Contractor: ANJ Master Electric,  705-623-8973, Owner – James Bullock
Feel free to drop us an email with any suggestions or comments about your delivery experience as we are continually working to enhance the delivery process.
** prices are subject to change without notice
*** WE ARE CURRENTLY NOT BOOKING TUB MOVES***